Delivery Information:
Normally delivered between Saturday 25 Janand Monday 27 Jan. Please check exact dates in the Checkout page.
Capacity 5.0LStainless steel body.Automatic switch –offOver heat protection.Built in dry boil sensor.Detachable power cord.Power 1850-2200W
Key Features
Capacity 5.0L
Stainless steel body.
Automatic switch –off
Over heat protection.
Built in dry boil sensor.
Detachable power cord.
Power 1850-2200W
What's in the box
Specifications
SKU

: SA127HL0R8BO0NAFAMZ

Capacity (L)

: 0

Color

: silver

Model

: NL-KT-7741

Weight (kg)

: 2
Product Reviews (0)
This product has no reviews yet.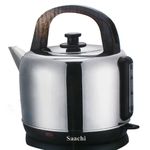 5.0L Saachi Electric kettle NL-KT-7741 - Silver