Ceramic pot filters are made of a mixture of clay, water, and rice husk. The mixture is the first machine pressed into the correct flower pot mold, then after drying, is fired using a traditional ceramic firing kiln. During firing, the rice husk combusts, leaving behind many 0.6-500 μm holes that physically remove contaminants from the water. 
The fired filters are then coated with silver nitrate, which acts as a biocide against the residual bacteria that may flow through. The safe water storage reservoir prevents re-contamination of treated water. With over 50 filter factories worldwide, ceramic water filters have been historically proven to be effective in removing 99.9% of microbiological contaminants. 
Health Benefits
Removal of waterborne pathogens 
Greater than 99.99% E. coli reduction 
Greater than 94% turbidity reduction 
60-70% reduction in diarrheal disease 
Affordability
650,000 UGX in savings compared to 2 years of boiling 
Significantly cheaper than bottled water 
Reduction in health costs associated with diarrheal disease 
Sustainability
Reduces deforestation 
Culturally accepted taste 
Long life span 
Economic stimulus through various distribution methods 
Key Features
20 L container: 10 L clay filter above,10 L safe water storage below 
Flow rate of 2L per hour
Guaranteed life span of 2 years 
Can serve an entire household
What's in the box
Ceramic (Clay) Pot
White Plastic Bucket
Blue Plastic Lid
Tap
Specifications
SKU

: WH489HL065UVSNAFAMZ

Capacity (L)

: 20

Care Label

: To maintain: Simply take a clean cloth or sponge and wipe the inside of the clay component to clear out the residue. Wash the plastic components with soap and clean water; rinse and dry thoroughly before continuing use.

Color

: White

Main Material

: Ceramic Pot, Plastic Case

From the Manufacturer

: Should be assembled and handled with care, as the clay component is fragile and can break. In case of any damages, discontinue use and contact the manufacturer directly for replacement part(s). 

Model

: 20 liter

Production Country

: Uganda

Size (L x W x H cm)

: 33.5 x 33.5 x 43

Weight (kg)

: 3
Product Reviews (0)
This product has no reviews yet.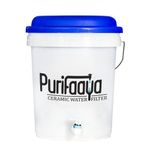 Purifaaya Ceramic Water Filter and Water Dispenser - 20 Litres