Overview
If you want a memory card which will last you a long time and help you carry all your valuable data, you need to go for SanDisk 32GB MicroSDHC Card. This micro SDHC card is perfect for daily usage and you will be able to save a lot of files on it due to the high storage capacity. This Sandisk memory card is built using very durable material and is easily compatible. It also comes with a five year limited warranty from the date of purchase.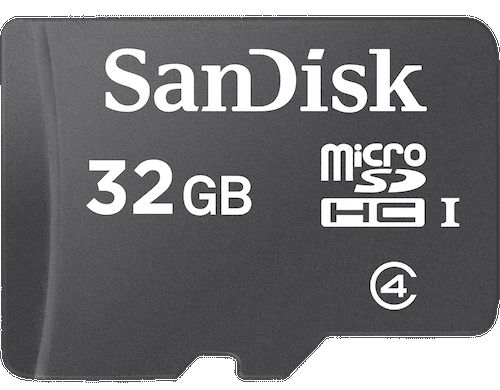 Memory Storage Capacity
The 32 GB memory space in this card ensures that you are able to save a lot of files in it. If you like listening to songs, then you can easily save a huge amount of mp3 files on it. If you are a video buff you can go ahead and store a lot of videos on it as well. You can view even movies with this card's amazing storage capacity. For people who take a lot of pictures, this is a great buy as well since they can save a lot of pictures in it. The high capacity also reduces one problem which is dumping the files again and again. You can easily just go through and dump them once in a while.
Speed Rating
SanDisk 32GB MicroSDHC Card is a class 4 card and you can therefore be sure that the transfer speed is going to be very high. Go ahead and transfer files in no time. Even when you transfer files of up to 10 or 20 GB, you will see that there is no amount of lag.
Design & Durability
The design of SanDisk 32GB MicroSDHC Card is very durable and is compatible with any mobile device which supports micro SDHC cards. Just put it in the slot and you are good to go. These cards are water proof and dust proof as well which help travelers very much. If you travel a lot, you can use it in any weather condition without any issues.